Luvanto Endure Pro is known as the new generation of luxury design flooring. With a popular range of stylish colours, we have something for everyone.
Luvanto Endure Pro is produced using the latest Stone Plastic Composite (SPC) technology. With a better, easier to install, non-adhered, free floating click system, Endure Pro always delivers a professional finish.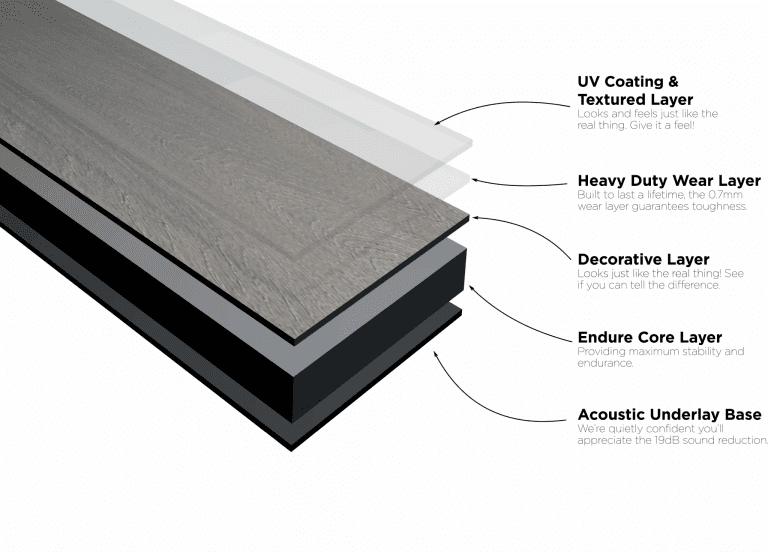 With a lifetime domestic warranty, a tough 0.7mm wear layer, and acoustic backing for maximum sound reduction, Endure Pro is in a league of its own.
Thanks to the clever technology inside, Endure Pro can be installed in most areas of direct sunlight without having to worry about issues in the future. Endure Pro can also be installed over most existing hard flooring.
What makes Endure Pro so great?
One product for all areas of domestic and commercial use.

Easy to install – It has a strong reliable drop clicking system which is easy to fit together. It is also easy to cut without the need for specialist tools.

Minimum disruption – You can walk on the new floor and out the furniture back in the room straight away after laying the new floor.

Endure Pro does not expand with heating and cooling, which means it can be installed with only a 2mm expansion gap and in areas of direct sunlight, such as conservatories and rooms with large patio doors.

Up to 600m2 can be installed without leaving any expansion joints. Expansion gaps can be sealed with a low modulus silicon.

Quiet to walk on, Endure Pro has an integrated acoustic backing which provides one of the highest ratings on the market 22dB of sound reduction without having to use an extra underlay.

The built-in underlay means it can be installed over most existing hard flooring surfaces – saving time and money.

Right for every room – it can be fitted in every type of room including kitchens and bathrooms where there is a lot of moisture.

Endure Pro has a tough 0.7mm wear layer which makes it one of the most hardwearing and scratch resistant LVT's available.

Complete peace of mind. Endure Pro is one of the best LVT products on the market, it has the longest warranty on the market (lifetime domestic and 20 years commercial).
Use our 3D Room Visualiser to showcase our products in different room settings. Mix it up, have some fun!