Universal Adhesive & High Temperature Adhesive Strength & Performance For Peace Of Mind
QA Universal & High Temperature Adhesives are designed and approved for the rapid and reliable installation of dryback Luvanto LVT flooring and acoustic underlays; more fitter friendly with higher initial grab, faster drying and high strength when fully set. Pull-off tests have shown that the smoothing compound will fail before the adhesive.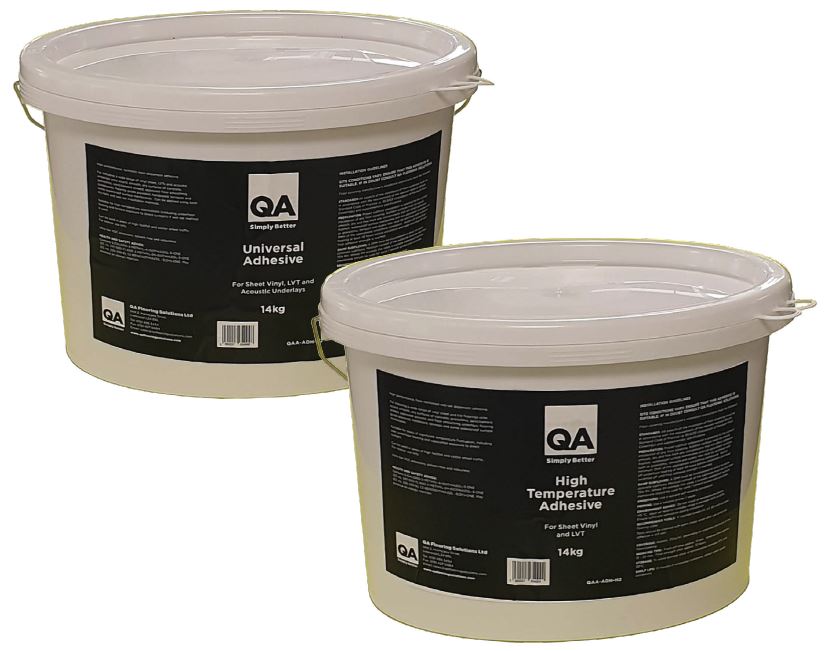 QA Universal & High Temperature Adhesives are low-emission, solvent-free and odourless; and are suitable for underfloor heating, areas of high footfall and castor wheel traffic; and are covered by the respective flooring warranties.
QA Universal Adhesive (QA-UA)
A true high performance wet, semi wet or pressure sensitive adhesive designed specifically for LVT contractors who prefer to fit on a pressure sensitive (PS) adhesive.
QA-UA is a versatile adhesive which can be used in both dry-tack and wet-set applications.
QA-UA is suitable for all types of floor covering and all types of subfloor – It is also suitable for high temperature applications, so can be used with underfloor heating systems, and limited exposure to direct sunlight. One adhesive for most applications.
QA-UA achieves a "hard set" once fully cured helping to stabilise tiles in problematic conditions.
A wet open time of 30-45 minutes.
Pressure sensitive open time of 4-5 hours.
Can be used as a contact adhesive.
QA are the only LVT supplier presently offering a high-performance pressure sensitive adhesive.
QA High Temperature Adhesive (QA-HT)
QA-HT is a high-performance, wet set, fibre-reinforced adhesive designed for the most demanding applications.
It is recommended for the most extreme areas of sunlight exposure and temperature fluctuation (e.g., conservatories and large windows/patio doors) and will not lose bonding strength with large changes in temperature. This reduces the possibility of installation failure, leading to greater customer satisfaction.
Water based, so any spills or squeeze through can be cleaned off with water whilst still soft.
EC1+ rated on its VOC emissions (safest rating in the world).
QA-HT is micro fibre re-enforced meaning that the final bond strength is extremely high. Due to the types of fibres, the adhesive has less "wet slip" than traditional wet set high temperature (HT) adhesives; and achieves its HT bond strength fast.
Wet open time is approx. 45 mins, High temperatures will reduce the open time, cold temperatures will extend it.
QA-HT is set to become the new industry benchmark for wet set high temperature adhesives.
Use our 3D Room Visualiser to showcase our products in different room settings. Mix it up, have some fun!