Your bedroom is one area in your home where a little creativity can go a long way and choosing the best flooring for bedrooms leaves you with many options for both comfort and design. As one of the most used rooms in any house because it is where you typically begin and end your day, therefore, it's crucial to carefully consider the best types of flooring when thinking about transforming your bedroom.
We retreat to the bedroom as a valued private space for rest and relaxation, and for this reason it is important to have a wide range of options when selecting flooring for the bedroom. The many options include carpet, hardwood flooring, engineered wood flooring, vinyl flooring, LVT flooring, laminate flooring, and even cork flooring.
The look and finish of the flooring you choose for your bedroom can give you a room that exudes luxury and serenity. Flooring in the bedroom can brighten a cramped, dark space and make it additionally appealing. 
Durability isn't always as crucial a factor when choosing your bedroom flooring, unlike a kitchen space, because bedrooms receive nowhere near the same level foot traffic on a day-to-day basis. Comfort for bare feet and design are often two of the main deciding factors for bedroom flooring. It's important to take some time to consider your design preferences and the types of space you want to create in the bedroom when choosing your flooring.
VIEW OUR BEDROOM FLOORING RANGE NOW
How to Pick the Best Flooring for a Bedroom
Style and practicality should be at the forefront of your mind when choosing the best bedroom flooring for your particular needs and requirements. When selecting a floor type, we advise keeping in mind the following features and qualities:
Simple to clean. No matter who is making the mess, your children, pets, or you, bedrooms need to be cleaned frequently.

Durable. Bedroom flooring can sustain significant damage in its lifetime simply from use and foot traffic, so you'll also want to choose something sturdy that won't wear easily.

Comfort. The flooring in your bedroom should be comfortable for you to walk on when you first get out of bed in the morning.

Visible aspect. Any room's flooring serves as a focal point, so you should probably pick something stylish that unifies the space. Think about the colour options for the floor and whether or not they will go well with the style and theme of your bedroom.
The best types of flooring for bedrooms
Of course, you want a floor that matches the design of the bedroom and feels good under your bare feet. Nothing is worse than putting your feet on a cold, uninviting surface after getting out of a warm, cosy bed. 
These requirements are met by numerous flooring types, including carpet, laminate, vinyl, and wood. The decision between these options often comes down to your preferences for design, style, and budget. Each option has benefits and drawbacks in terms of comfort and cost.
Depending on your budget, there is a wide range of options, from carpeting in a ranging from budget to luxury, laminate or LVT to more expensive hardwood floors. 
Bedroom designs and ideas
Our personal havens, our bedrooms, are where we go to unwind and rest. With this in mind, you should design a serene, well-organised space that reflects your personal taste and promotes a tranquil atmosphere.
You can lay the groundwork for your bedroom's design aesthetic by picking the ideal floor. For instance, certain wood flooring can offer a classic appearance that won't date or go out of style. Additionally, it is adaptable and can go well with modern and traditional design styles. For instance, because wood flooring collections come in a vast array of patterns, styles, and colours, they go well with just about any colour scheme or interior design theme.
Your selection of lighting, accessories and colours, in addition to the flooring, can affect the overall design of your bedroom.
An overview of some of the most popular choices for bedroom floors is provided below:
Carpets in bedrooms
A carpet is a standard option for bedroom flooring because of its warmth, softness, and capacity to muffle sound in a space. The feel of carpet under bare feet often the main reason to carpet flooring in bedrooms. In addition, carpet is available in a variety of pile lengths, styles, and colours and is easily cleaned with a vacuum cleaner. 
The fact that most carpet is less hypoallergenic-friendly than wood or laminate could be a drawback for some. If a thread or loom snags, maintenance may also be necessary, but generally speaking, carpet is pretty durable and, if looked after properly, can last for many years.
Even the best carpet will eventually show signs of wear, such as flattening and pile reveral, in areas that get a lot of traffic. Regular maintenance is necessary for carpets, but steam cleaning can cause the fibres to become matted and hard. Additionally, carpet and carpet pads can absorb stains that are hard or sometimes impossible to remove.
In terms of cost, the sky is the limit, but it is typically a less expensive option for bedroom flooring than hardwood flooring, and it generally requires a a professional carpet fitter to lay.
Porcelain and Ceramic Tiles in Bedrooms
Because of their excellent performance in terms of the attractive range of available finishes, durability, and ease of maintenance, ceramic and porcelain tiles are a very suitable option for bedroom flooring and are common place in warmer climates.
The bedroom tends to produce a lot of dust because we spend so much time there. Cleaning and dust collection are much simpler on tiled floors than on other flooring types. Tiles in the bedroom work well with under-floor heating, adding another level of comfort. Additionally, you can warm the floor and add a complimentary designer flourish by adding rugs and mats.
Sheet Vinyl Flooring in Bedrooms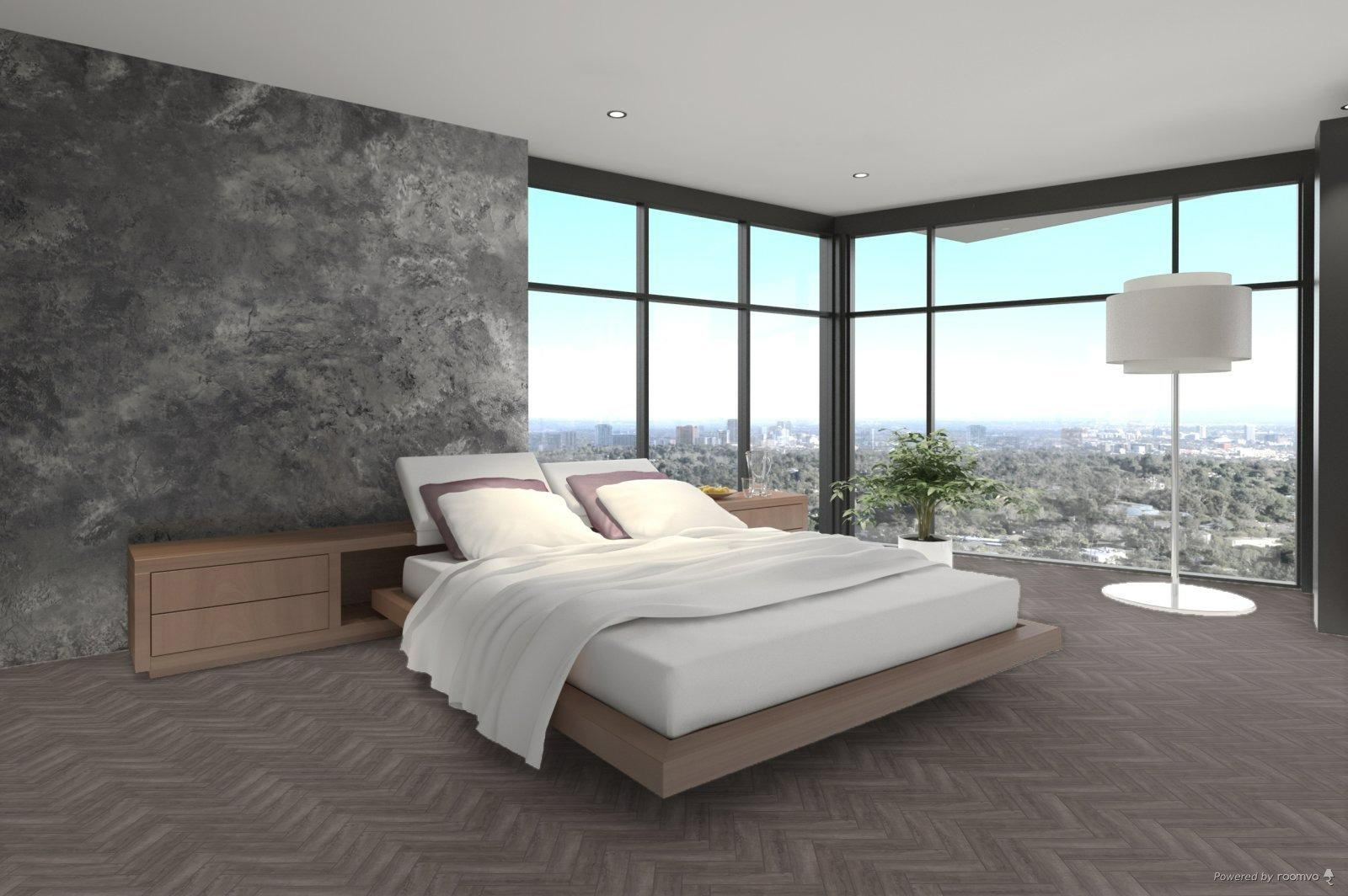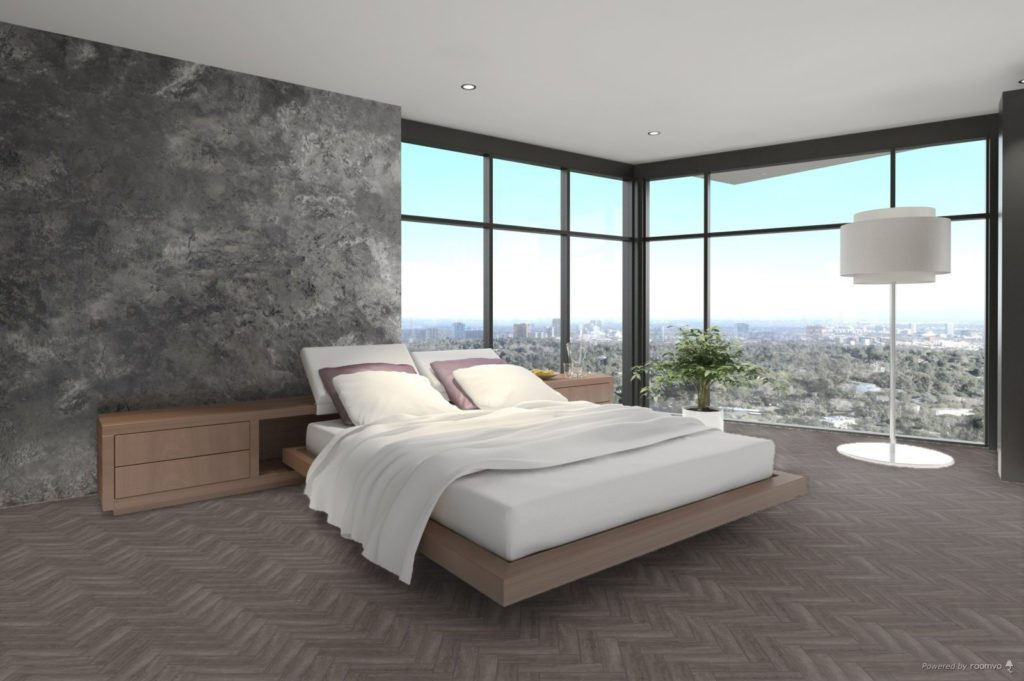 Sheet vinyl has some design advantages over some of the other bedroom flooring options, including affordability and virtually endless design options. In addition, vinyl is available in a wide range of patterns, hues, and styles, including graphic effects and wood, tile, and stone, meaning you can select a bedroom floor that complements your own personal style preferences. It is prone to denting, ripping and becoming out of shape over time.
Luxury Vinyl Tiles in Bedrooms
It's now simpler than ever to find bedroom flooring that perfectly matches your design aesthetic and way of life thanks to the versatility of Luxury Vinyl Tiles, like those offered by Luvanto Flooring. These tiles are also available in a large selection of plank sizes, textures, and colours.
There are a variety of LVT flooring options available to suit various needs, preferences, and price ranges if you're looking for an affordable alternative to wood.
Specialist flooring companies like Luvanto Flooring specifically considered a wood-look finish when designing their LVT ranges, presenting a wide selection of wood designs that perfectly capture the appearance and feel of natural wood. 
Low-maintenance LVT with a wood-look finish is simple to clean, often incorporating underlaytechnology, such as SPC, for the best sound absorption. They also feature an easy-click installation options, simplifying the process of installing vinyl tile floors.
Most LVT products are completely phthalate-free and emit few VOC's (volatile organic compounds). In addition, to improve indoor air quality, Luvanto produces low-emissions flooring that looks great in the bedroom and is more mindful of the environment.
Wooden Floors in Bedrooms

Bedroom wood floors are classic and lovely and go well with just about any decor. Strip, plank and parquet are just a few patterns and designs available in wood flooring collections. 
Wood flooring will look and feel warm with adequate insulation. This is crucial in the bedroom, where you frequently go barefoot and want to feel cosy and warm. By selecting wood flooring that is compatible with underfloor heating, you can also add more warmth. Area rugs also provide warmth and softness underfoot. They can also enhance the overall look and feel of the bedroom.
Laminate in Bedrooms
Laminate offers an appealing and cost-effective alternative if you want a wood-like finish for your bedroom floor but find that hardwood floors are out of your price range. Despite being much more affordable than hardwood flooring, it can successfully imitate the appearance of organic flooring materials like wood, just like vinyl flooring. 
Many of the benefits of laminate flooring are similar to those of vinyl flooring, including ease of maintenance, high resistance, attractive appearance, and durability. However, laminate, especially compared to vinyl, is known for being quite hard, which puts it at a disadvantage for comfort and noise underfoot. In light of this, laminate flooring may not be the best option for bedrooms if comfort and design are your two main selection criteria.
Summary
It can be challenging to decide which bedroom flooring option is best for you. You do not, however, have to go it alone. It's critical to consider the bedroom's intended occupants and primary functions. For example, a child's bedroom may benefit from a different floor than an adult couple's bedroom. 
Although we've already listed the most common bedroom flooring options, many more special options are available to fit your preferences and needs. These options include, among others,  concrete,  cork, and bamboo.
It might not seem like a natural choice to use hard flooring in a bedroom, perhaps when you've always had carpet in the bedroom in the past, but with Luvanto Luxury Vinyl Tiles, you can have the best of both worlds. They are softer, warmer, and more tactile than stone, wood, or laminate flooring underfoot. Additionally, it is easier to maintain and more versatile in style than traditional carpet floor covering.
Whether you already have a clear idea of what you want or are still undecided, there are numerous options available when considering changing the flooring in your bedroom.
We hope this article has given you a few ideas that you may not have considered previously. But, of course, every person is different, and the best flooring for bedrooms often comes down to personal choice as well as your budget.