If you're looking for the perfect flooring for dogs, that doesn't need an engineering degree to fit, is cost-effective, looks great, and can be delivered quickly, then you should consider Click Plus Luvanto luxury vinyl flooring.
Considered to sit between traditional vinyl flooring and high-end real wood flooring, luxury vinyl flooring or LVT as it's commonly referred to boasts an affordable price point, the ease of installation of laminate and the beautiful aesthetic of real wood or tiled flooring.
This popular and practical flooring option is having a bit of a moment and is being snapped up by DIY home renovators all over the country due to its beautiful aesthetic, manufacturer guarantees, and hardwearing properties which make it suitable for all rooms in the homes of even the busiest of families and their four-legged friends.
Buying Dog-Friendly LVT
With around 12.5 million dogs living with us in the UK and nearly 45% of families owning a dog, designing our homes in a way that offers maximum comfort and practicality for us and our dogs is an important consideration for any homeowner, renovator or DIY enthusiast out there.
Luvanto is one of the nation's favourite LVT brands and is manufactured exclusively by QA Flooring Solutions. This premium floor product is available to buy from nationwide independent retailers throughout the UK, and is one of the best solutions available for anyone looking for a dog friendly flooring. Don't just take our word for it though, order your free sample to see how it looks in your room and see what all the fuss is about.
______________________________________________
WE AIM TO DELIVER THE NEXT WORKING DAY
______________________________________________
Read on as we look into flooring options for dogs and tell you everything that you need to know about Luvanto luxury vinyl flooring including where to buy, its family and dog friendly properties, and showcase just some of the stunning realistic designs available for your home.
What Type Of Flooring Is Best For Dogs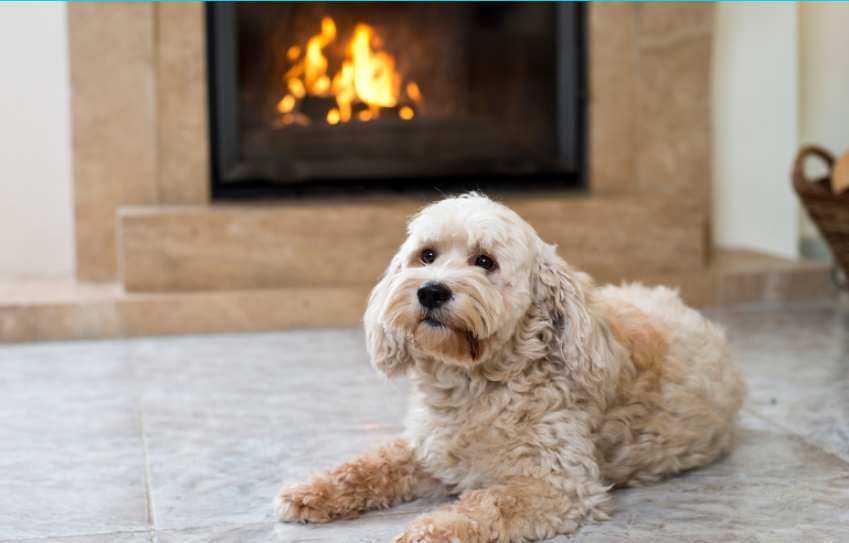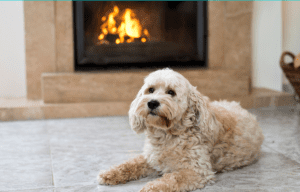 From the smallest of Chihuahuas to the largest Great Dane, when considering what type of flooring is best for dogs, you need to find options that can handle the demands that our four-legged friends place on floors as well as suit the style that we want to achieve for our homes.
Man's best friend provides companionship, unwavering loyalty, support and a reason to get us moving each day but they also come with muddy paws, floor ruining claws, toilet accidents and fur that gets on everything, and that's all before they've got wet on a walk and shaken water everywhere!
When looking for flooring that can handle water, fur and dirt with ease, and also won't scratch easily, then hardwearing, easy to clean surfaces are top of the list. This means that you're likely to be deciding between laminate, hardwood, tiles, or luxury vinyl flooring and have discounted carpet already due to its ability to trap dirt and fur within the fibres and non-hypo-allergenic properties.
Pros And Cons Of Flooring Types 
Assuming that you've discounted carpet when deciding on which type of flooring to lay in your home due to owning dogs, then we've highlighted some of the main pros and cons of the other mainstream and dog friendly flooring options available below including hardwood, laminate, tiles and luxury vinyl flooring.
Wood Flooring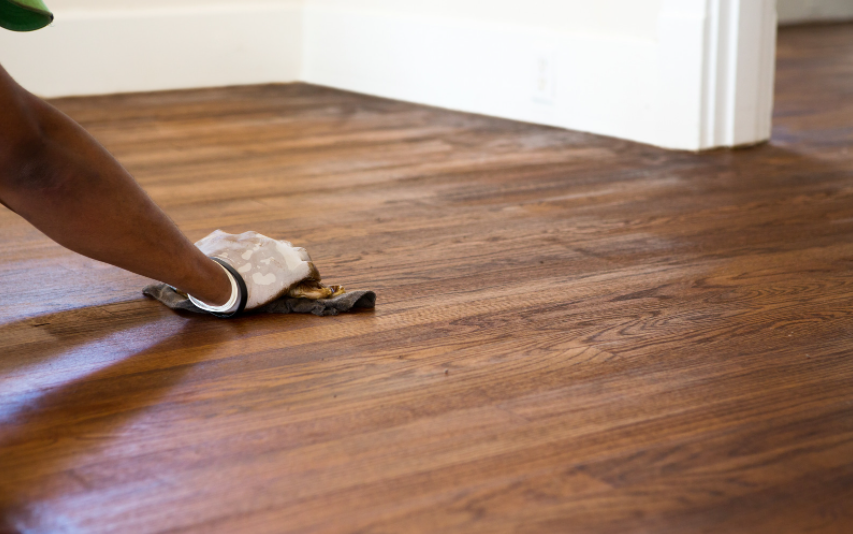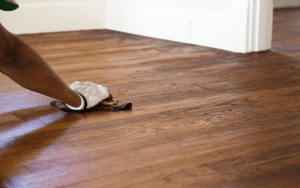 Wood flooring screams luxury and has a look, texture and warmth that many people crave for their homes. Hardwood flooring can last for years, it is allergy-friendly and is easy to keep clean.
The downside is that it can be easily scratched and stained by spillages – not great for dogs that like to dig their claws in or have the occasional accident indoors. Wooden flooring can also become quite slippery underfoot, especially if you like to keep on top of cleaning and varnishing it, which can be a recipe for disaster for you and your pets when zoomy o'clock hits! Maintaining hardwood floors also takes a lot of work with sanding and varnishing required to keep it looking pristine which can be expensive in the long term.
Ceramic Tiled Flooring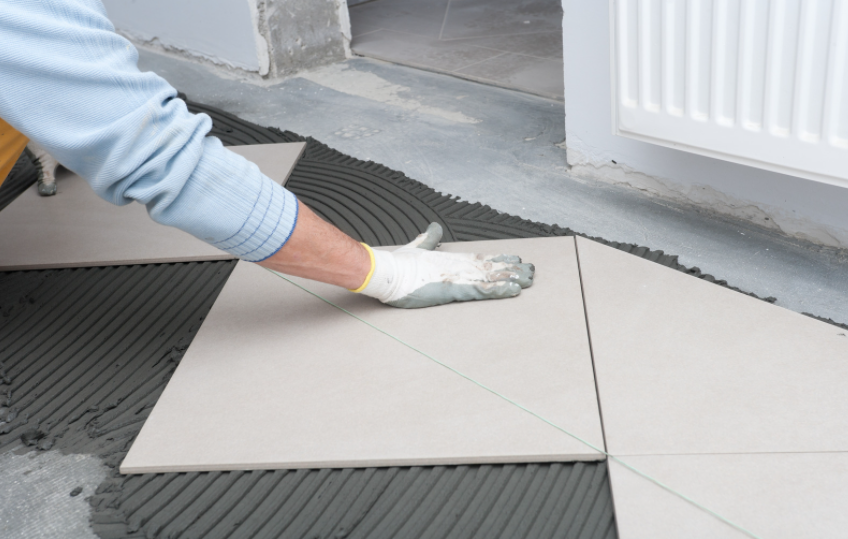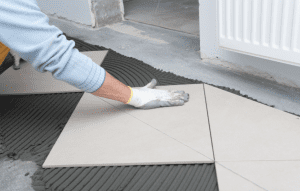 On the face of it, ceramic tiled flooring seems much more dog friendly than real hardwood flooring. It's easy to clean and long-lasting and is very popular for kitchen, utilities and bathrooms due to its excellent water-resistant properties. Tiled flooring isn't however most people's first choice for a look they want to install throughout the whole home and it can be incredibly slippy when wet which could spell a recipe for skidding for you and your pet when returning home on a rainy day or after bath time.
Laminate Flooring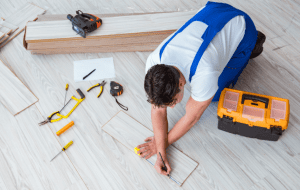 For years now, laminate flooring has been celebrated as a brilliant flooring option for pets. It's a low maintenance product that is easy to install, easy to keep clean and comes in a range of looks to suit a variety of tastes.
The downside of laminate is that it isn't always waterproof, can stain easily and fade, especially in direct sunlight, and you must be very careful with the cleaning products that you use to prevent bleaching the colour away with harsh chemicals.
As a result, due to the amount of cleaning required for dog owners, particularly if you have an accident-prone pup, poorly dog, or regularly need to clean up water spillages from dog bowls, you may be looking for a more hardwearing solution than laminate. This brings us to luxury vinyl flooring.
Luxury Vinyl Tile Flooring
LVT is incredibly popular right now due to its pleasing aesthetic and brilliant practical properties. Looks-wise, this enviable product can be manufactured to take on the look of wood, stone and ceramic to very realistic levels – in fact, most people can't tell the difference when placed side by side with the real version of each product.
LVT can be clicked together like laminate which makes it a DIY installation dream and a step up from traditional vinyl flooring which typically comes in large rolls that can be a nightmare to work with unless you know what you're doing.
Property wise, it's waterproof, stain-resistant, long-lasting, can be used with underfloor heating, and is hard-wearing. In short, LVT is a product that boasts everything a dog owner could want from their flooring!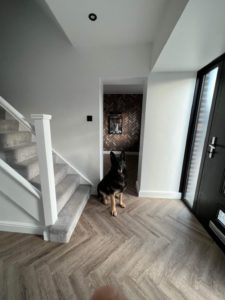 ______________________________________________
Tell Me More About Luvanto LVT 
If you like the sound of LVT, but haven't heard about it before, then we've covered some of the main selling points for Luvanto, which is one of the most popular brands of LVT available for home and pet owners in the UK below.
Stylish Colour Palette
Designed to create stylish and elegant interiors from a collection of beautiful woods and tiles.
Durable Luxury 
Luvanto flooring will look good for longer due to its tough, durable finish and generous 0.55-0.7mm wear layer which makes it perfect for scratchy dog claws and endless hours of fetching toys from across the room! It also has the benefit of not needing any expensive floor polishes or lacquers to preserve the appearance.
Waterproof 
One of the best benefits about Luvanto is its excellent waterproof properties, which makes it perfect to protect your flooring from wet fur, dribbly dogs, urine, vomit, and knocked over dog bowls which are all part of the parcel of dog ownership! Sounds too good to be true? View this video to see its waterproofing qualities put to the ultimate 24-hour test!
High Slip Resistance
Luvanto LVT boasts a slip resistance rating of R10 and class leading wet and dry pendulum test results that make it great for helping to protect people and pups from sliding all over the place like Bambi on ice. With research showing that dog injuries from slippy floors have led to a rise in arthritis in dogs, installation of slip resistant flooring like the ranges from Luvanto can go some way to helping to reduce damage to your dog's joints that can be caused by more slippery flooring options.
Complete Peace Of Mind
QA's 'no quibble' warranty means that if you have any problems, the team will be happy to help and the generous Luvanto 25-year domestic warranty means you can rest assured that Luvanto luxury vinyl flooring is built to last and provides fantastic value for money. What's more, if purchasing from the Luvanto Endure Pro range, this comes with a lifetime Domestic Warranty for the ultimate peace of mind that you are buying quality that lasts.
Easily Available 
Luvanto is stocked throughout the UK, so you can be sure that as soon as you've made up your mind on the perfect floor for you, it will be delivered very quickly.
______________________________________________
Find Your Perfect LVT Flooring
______________________________________________
How Is Luvanto Fitted? 
There are several types of installation methods to fit Luvanto flooring depending on the product that you opt to purchase for your home.
Once you have selected your preferred look from the Luvanto range, head over to our fitting guides for a full overview of how to fit your new flooring including acclimatisation, subfloor preparation, and installation instructions.
Whilst we're confident that competent DIYers can install our Luvanto Click systems easily, our stick-down Design and Design Herringbone ranges should only be fitted by professional flooring companies.
The Luvanto Range 
Luvanto offers ranges to suit all budget types from Luvanto Design, Luvanto Click Plus, Luvanto Pace and Luvanto Endure Pro.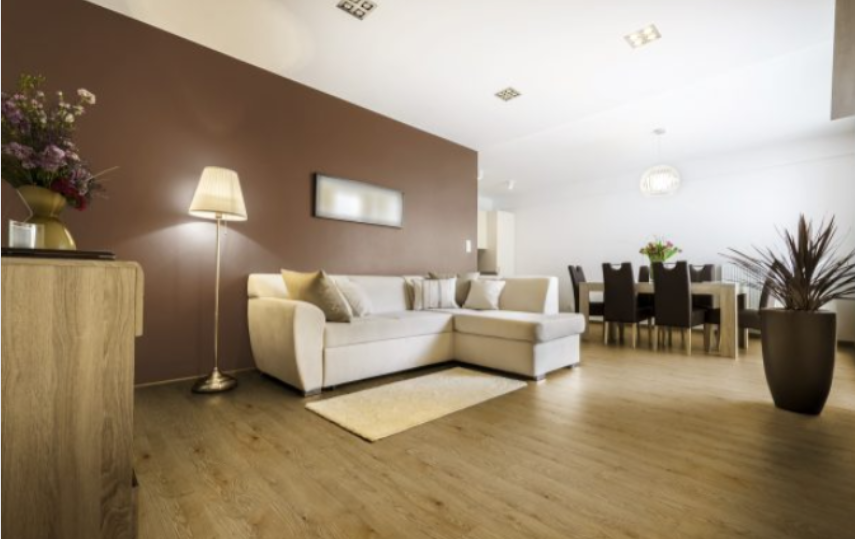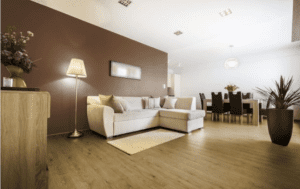 Country Oak Luvanto Design 
Luvanto Design is our glue down option that includes wood effect planks and stone tile effect products. One of the most important components to this range is that Luvanto Design does not shrink or expand as much as wood or laminate flooring, this is great if you want to add underfloor heating to your home.
Luvanto Click and Click Plus is a quick fitting, hassle-free range with a tough joint locking system and integral underlay on Click Plus, providing a quiet flooring suitable for upper floor apartments. It's also ideal for bathrooms and kitchens where there is a lot of moisture and is popular with DIY fitters as you can walk on the floor as soon as it's fitted.
Luvanto Pace is our latest flooring range and arguably the fastest and easiest to lay. Each plank comes with a self-adhesive backing that is soaked into the built-in underlay.  This meanbs that any damaged planks can be lifted and quickly replaced due to the long life of the self-adhesive backing.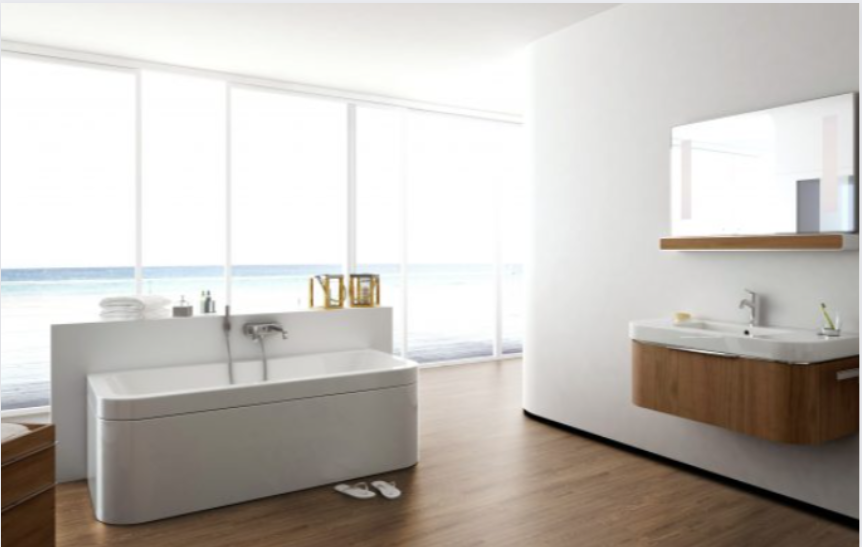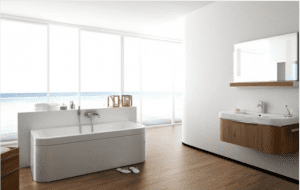 Luvanto Click in Antique Oak 
Finally, Luvanto Endure Pro , is the latest generation of luxurious flooring that provides the ultimate sound reduction, improved stability and durability meaning your floor will stand up to the heaviest wear without losing its elegant looks and comes with a lifetime domestic guarantee.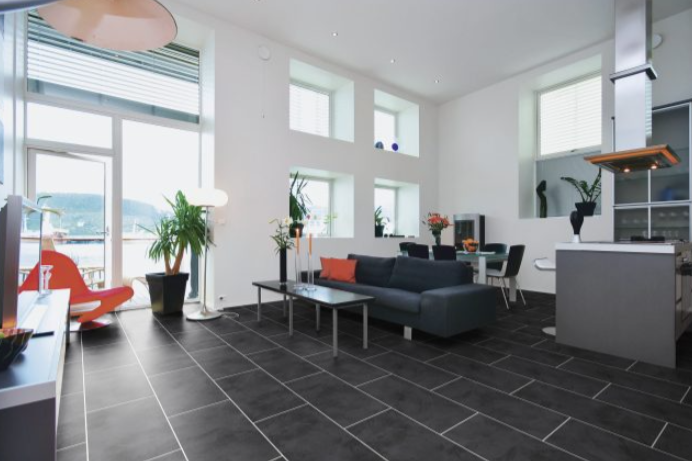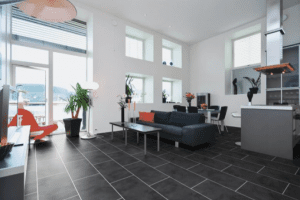 Luvanto Endure Pro, Black Slate 
Summary
With so many of us owning dogs these days, if you're considering replacing your flooring you will likely want to find a product that combines the aesthetics, durability and practicality needed to withstand the demands that our dogs can place on the flooring in our homes, whilst achieving the look and style that you love.
Luvanto Luxury Vinyl Flooring is an affordable and practical flooring solution for homes with dogs and offers the following great benefits:
Stylish colour palette and finishes to choose from including woods and tiles
Easy to clean
Durable luxury with wear layers, tough finishes
100% water resistant
Slip resistance rating of R10
25-years or lifetime domestic warranty depending on the product chosen
Available nationwide from stockists across the UK
If you're looking for flooring for dogs that is stunningly realistic, beautifully practical and surprisingly affordable then Luvanto luxury vinyl flooring can deliver everything you need from to stand up to the pressure of living with dogs, without breaking the bank.