The bathroom is one of the key rooms in your home and it's one where water, moisture and condensation are in abundance. For this reason, bathroom spaces require some special considerations, particularly with regard to the flooring. 
Water will inevitably end up on your bathroom floor, the walls, and even the ceiling, whether it's from overspray, spills, leaks, condensation, drips, or just the kids splashing around. This means your bathroom flooring needs to be able to handle the worst that comes its way when it comes to water. 
If you are considering new bathroom flooring, whether as part of a remodel or just to replace old tired looking flooring, it makes sense to do your research to find the best flooring for bathrooms.
Bathrooms really need some sort of waterproof protected flooring
Your choice of flooring really needs to take into account the fact that some sort of water protected capability needs to be present to keep your flooring in the best possible condition for years to come. Water protected options include waterproof and water-resistant flooring products – there is a distinction between the two – but both are usually good options for the bathroom.
Water-resistant flooring is an excellent option for many home rooms where water is a concern, including bathrooms, kitchens and laundry rooms. Water-resistant flooring is typically cheaper than waterproof flooring and does require a little bit of extra care in ensuring that any water spills are quickly cleaned up to prevent the porous inner materials swelling, warping, and peeling. 
Waterproof flooring, by its nature, is a more expensive option and cannot be penetrated by water. Water won't harm the surface or, more importantly, the subflooring underneath, as long as any seams between planks or tiles are watertight. Additionally, since there is no moisture penetration, the materials used to construct the flooring to make it waterproof also prevent the growth of mould and mildew, so that's a double benefit.
Flooring with at least some water-resistant properties should be your choice for your bathroom. Whether you opt for a material that is naturally waterproof, or one that is manufactured to have waterproof or water-resistant properties, can come down to personal preference or even budget.
You should get some great ideas from our recommended bathroom flooring options, but first, let's discuss what NOT to choose when picking out flooring for your bathroom.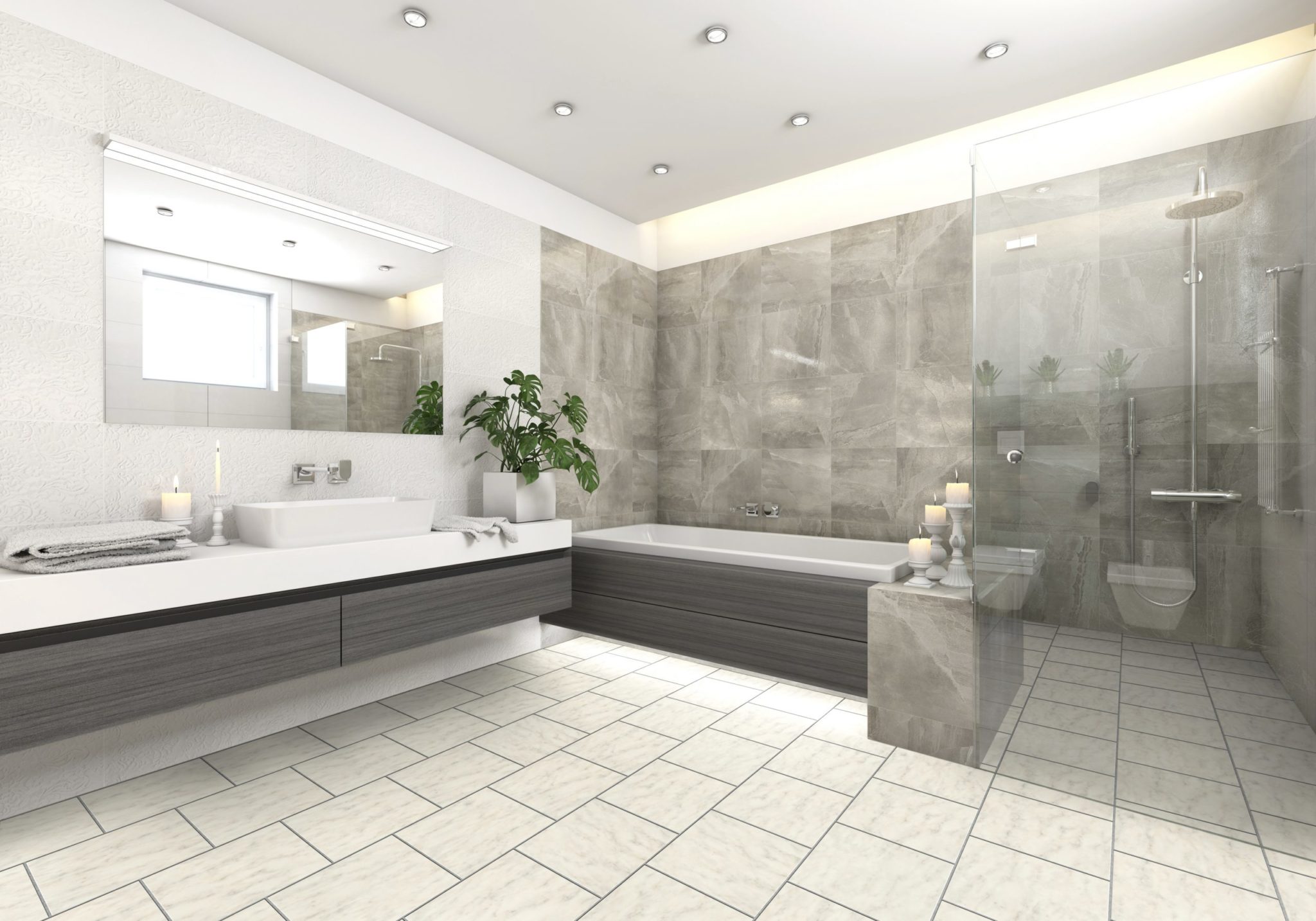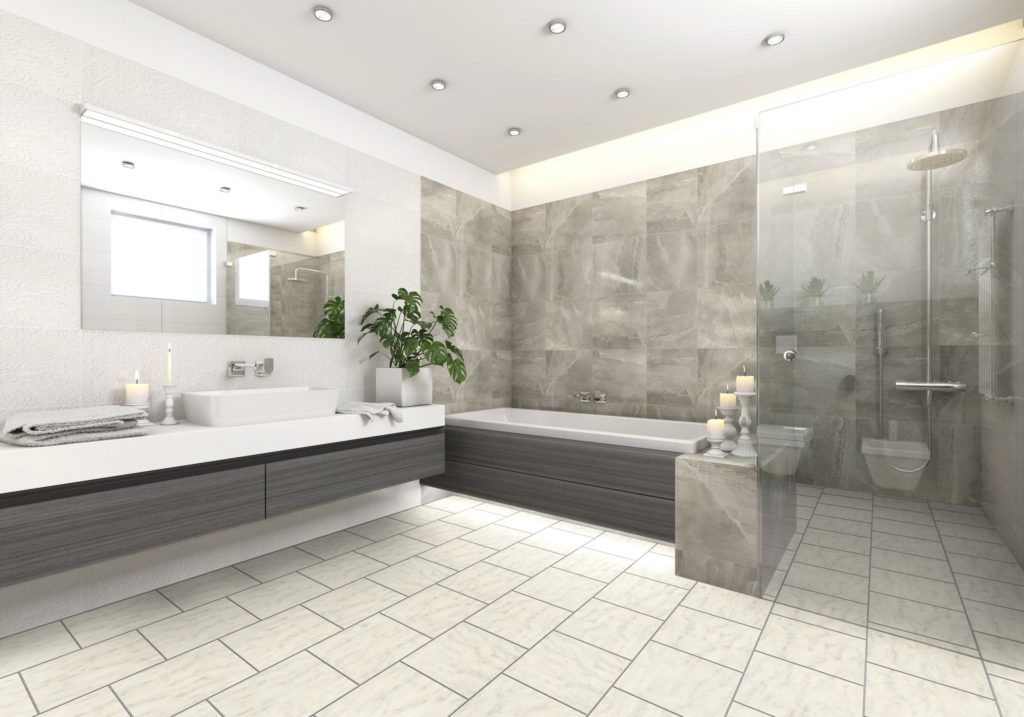 Carpet
Carpet is a soft, luxurious and excellent option in many rooms of the house. It is available in many loops, weaves, patterns, and colours and enhances the beauty and style of many rooms. But, unfortunately, when it comes to bathroom flooring, it's dated, awful, and incredibly messy.
If you were a child in the 1970s or 1980s, you might recall bathrooms with carpeting. Mould and mildew grow and sustain carpet moths from moisture in the air, water from dripping and overspray, and the holding capacity of carpeting. Mould and mildew can harm your subfloor and cause respiratory problems. Of course, we won't even mention the possibility of germs, but most people are aware how gross carpeted bathrooms can be. 
Laminates & Hardwoods
Many areas of the home are excellent candidates for hardwood flooring. Elegant looks, durability, and it can be refinished, providing years of great flooring in almost all of the home's rooms. However, they are probably best kept out of the bathroom.
Hardwood floors need to be flawlessly installed and moisture-sealed to function properly in a bathroom; if not, water will seep in, and the wood will eventually rot. Additionally, they will require more frequent resealing with a polyurethane-type coating than if they were in a different room without the bathroom's moisture issues.
Additionally, laminate flooring is not the best bathroom option. They are frequently not water-resistant and demand that spills be cleaned immediately to prevent swelling and warping.
Never forget that flooring specialists can always assist you in navigating the options for bathroom flooring. Therefore, before beginning your project, don't hesitate to contact a flooring expert such as Luvanto. Engaging a professional early on and making use of their knowledge to assist with planning and product selection, will make the whole process much easier from day one.
Let's move on to the excellent bathroom ideas, shall we? The ideal flooring for the home's busiest room!
The Best Bathroom Flooring Options
As we established, choosing materials with some water-resistant or waterproof properties is essential when picking the best flooring for bathrooms. This typically entails harder surfaces as opposed to porous ones that will collect water. Keep in mind that the enemy is absorption; we're looking at you, carpet!
VIEW OUR BATHROOM FLOORING OPTIONS
Porcelain or Ceramic Tile
Tile is the material of choice for many for the bathrooms. For bathrooms, ceramic and porcelain tiles are an excellent choice. The cost of tile flooring is typically lower than that of other hard surface options because it is durable, waterproof, and comes in various colours and patterns. Porcelain tiles absorb less water than any other ceramic item. Ceramics and porcelain are excellent choices for shower tiles because they can withstand even pools and puddles of standing water.
There are some aspects of tile that some customers frequently view as "cons." Due to its hard surface, tile is frequently described as a "hard," "cold," or even "sterile" flooring option. Even though standing on a hard surface for a long time can be uncomfortable, porcelain and ceramic tile both work well with under-floor heating systems, and the temperature of the floor can be adjusted accordingly. Tiles are a great option for sanitary environments because it cleans easily and doesn't absorb water or germs.
Tile has the potential disadvantage of being slippery when wet, and bathrooms are frequently damp. However, this is not unique to porcelain or ceramic tile. This is true of many different types of hard surfaces. Since porcelain and ceramic tiles are frequently baked to a smooth finish, people frequently mistakenly believe that they are more slippery than other options. Find a tile with a textured surface for tile flooring, especially in a shower, for safety.
Stone Tile Natural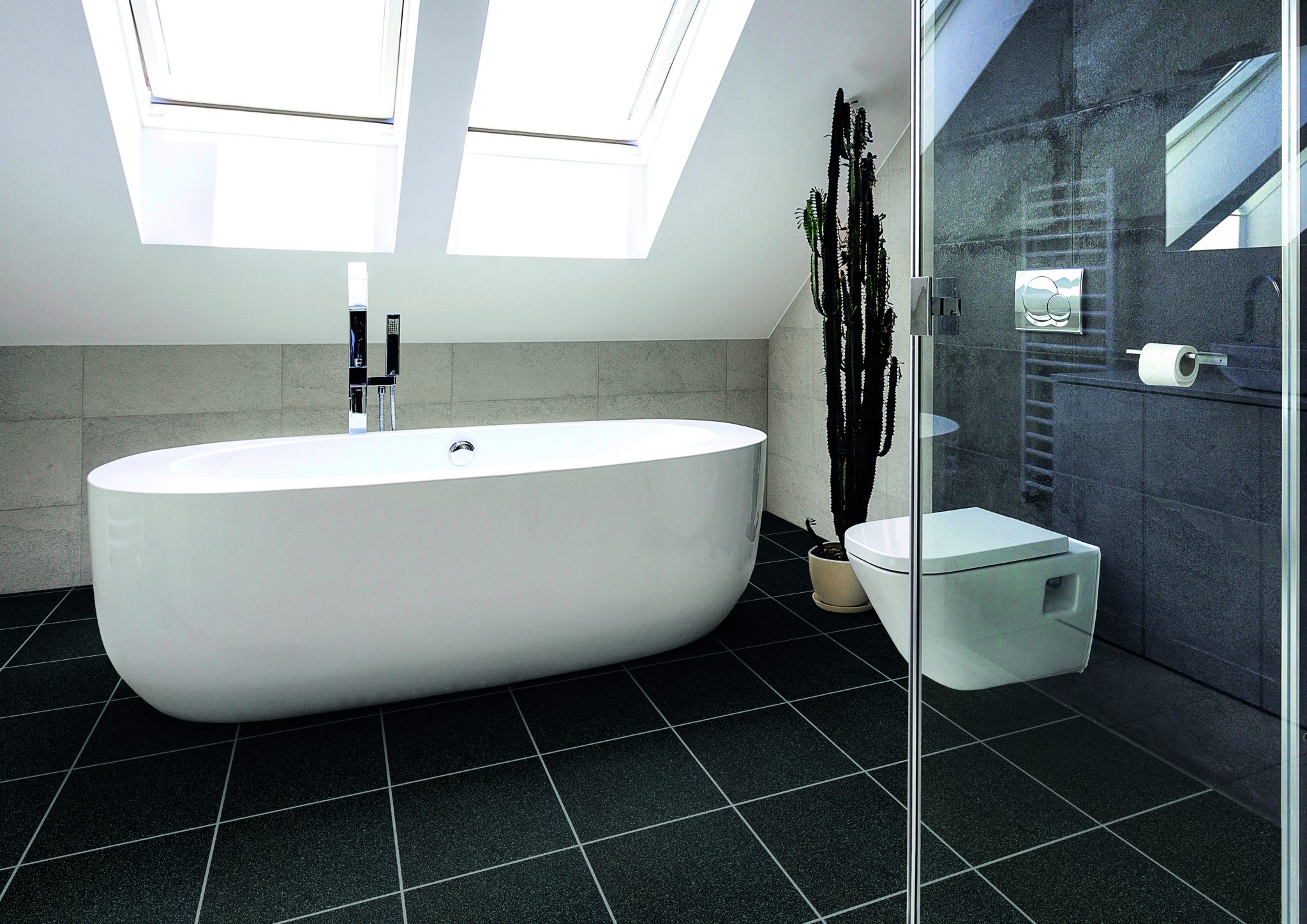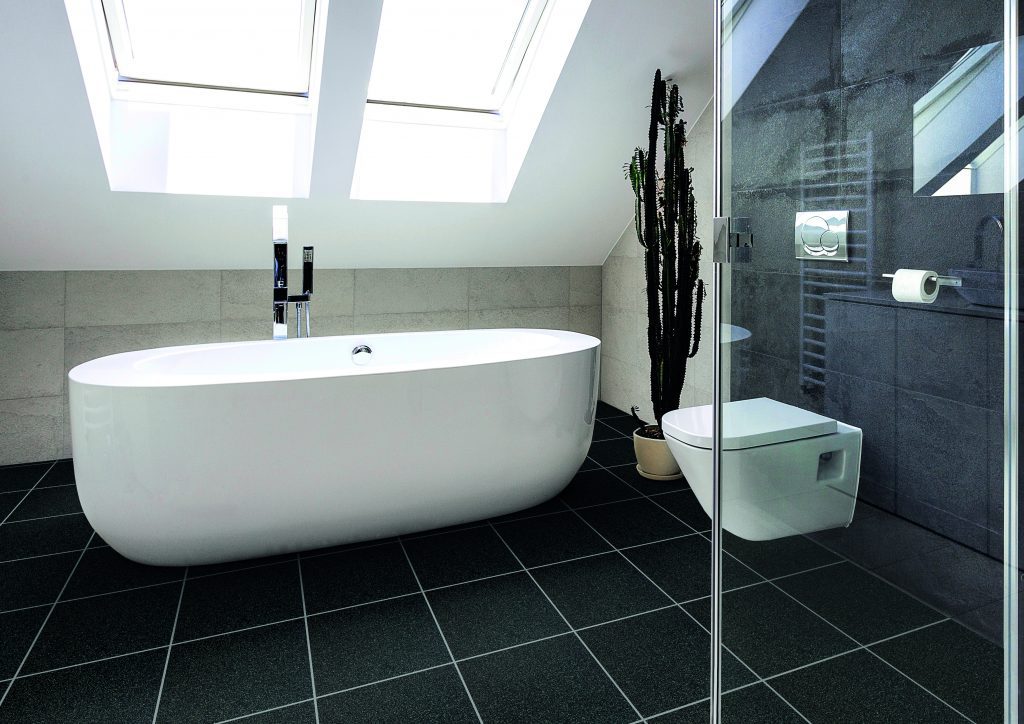 Natural stone is a fantastic alternative for bathroom flooring. Natural stone options come in a wide range, including granite, marble, and even limestone. Many advantages of ceramic and porcelain tile are also present in natural stone tile. Stone is available in tiles, planks, and even mosaics with mesh backing to hold the smaller tiles together. Stone is resistant to wear, waterproof, and available in various naturally occurring colours and patterns.
However, when considering stone as a bathroom flooring option, there are a few things to keep in mind. For the DIYer, installing stone can be challenging. If you decide to take on this project yourself, keep this in mind. 
Like tile, stone can be slippery, but grout patterns and finishes added later to "rough" up the surface can reduce this. As some stone products need periodic sealant applications to maintain the stone finish and stop the penetration of dirt and debris and moisture absorption, it may require more frequent upkeep than other options.
Cost is the most significant deterrent for many customers who are considering natural stone. Any bathroom would look luxurious with natural stone, but it can be expensive, and is one of the most-pricey flooring options available. The fact that it is a natural resource with a finite supply explains why it is more costly to mine and produce stone flooring.
Waterproof Vinyl Flooring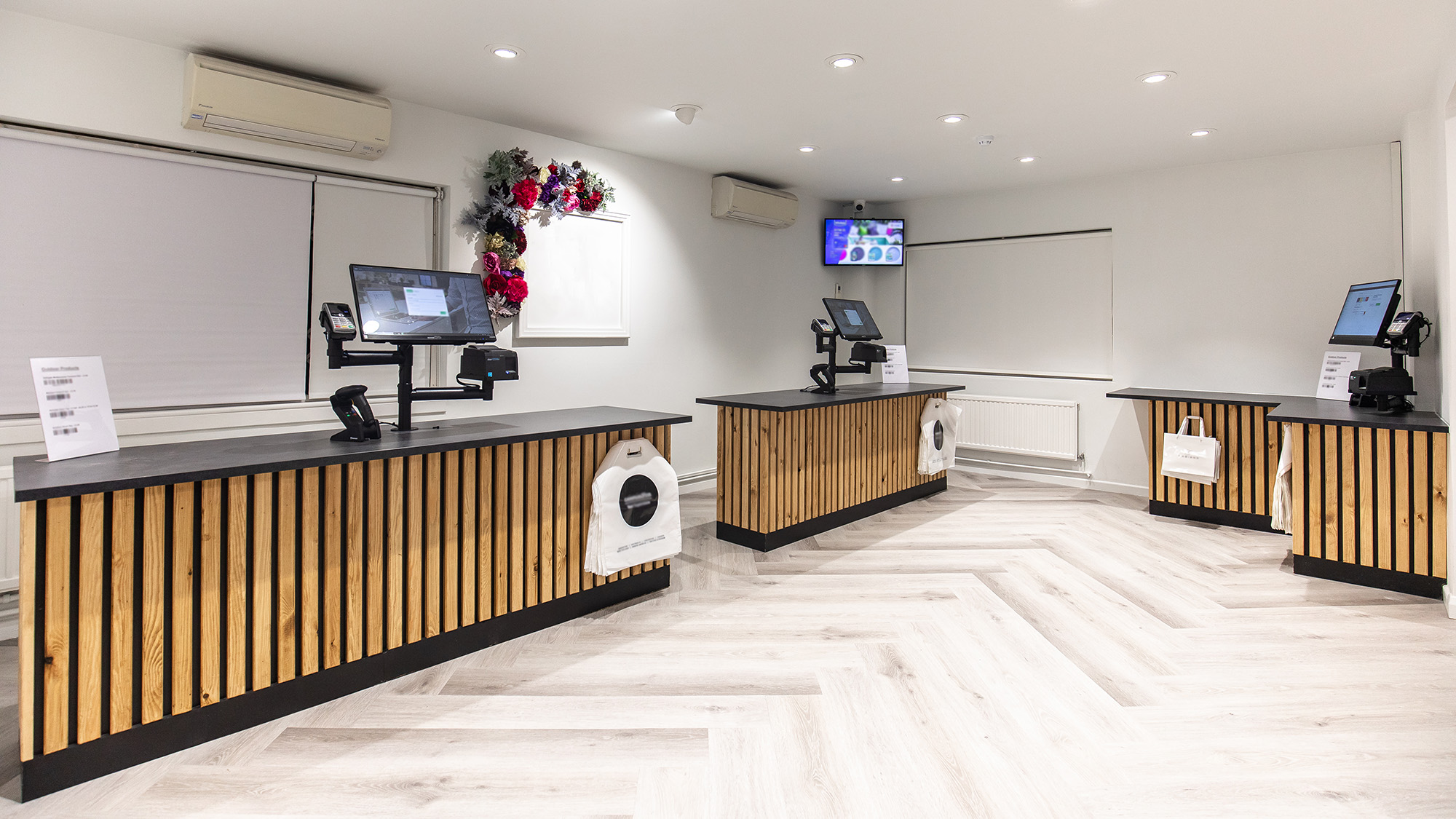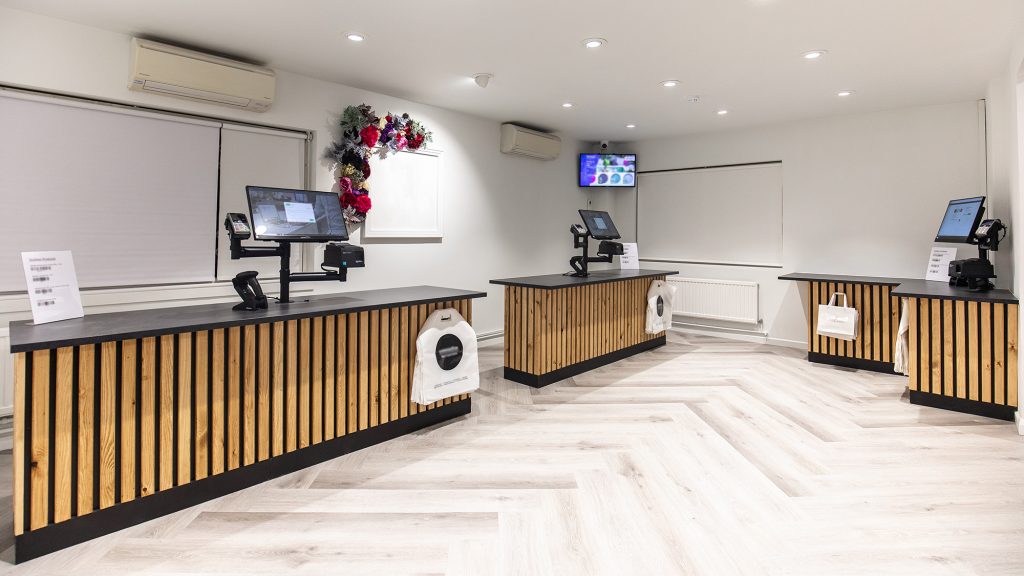 LVT is one of the very best options for bathroom flooring and is 100% water-resistant and relatively easy to install. Luxury Vinyl Tiles also come in a wide range of styles to suit most design preferences, so if you really want a bathroom floor that has the appearance of ceramic tiles or wooden planks, then LVT is definitely an attractive hardwearing and affordable option.
Vinyl flooring is one of the more affordable choices for bathroom flooring and this is what makes it often the popular option for the majority of households these days. The term "vinyl" refers to a broad range of product configurations from inexpensive sheet vinyl, quickly rising to the top of the list of available flooring options, such as SPC (stone plastic composite) luxury vinyl planks and tiles. SPC is ideal for wet, high-traffic areas like bathrooms
SPC vinyl flooring combines vinyl's strength, abrasion resistance, and waterproof qualities with rigid core technology. The core of these products is made from stone polymer compounds and protected by a wear layer, making both excellent waterproof options for bathroom floors. 
Many people are replacing hardwood floors in other rooms of the house with waterproof vinyl. In addition, it is scratch-resistant and offers more colour and pattern options than the natural products it is intended to imitate. 
Luvanto Flooring offers a wide variety of luxury vinyl planks and tiles in different finishes, colours and styles; and will have something to suit everyone, whatever their preference. It also has high R10 and class leading slip resistance, even when wet.
Decorative Concrete
Of course, you can always stain and finish the concrete floors if you're in a place or building with a concrete foundation or subfloor. Be aware, though, that concrete is not waterproof unless it has been correctly finished and sealed. 
This is not really a DIY project because extensive filling, patching, and grinding are typically required, and acid etching concrete to prepare it for staining. However, stained concrete offers a range of colour finishes, each particular to the concrete, so no one else will have the same floor as you. It is also a cheap and lovely option for flooring. If you are remodelling to sell your home, keep in mind that many potential buyers will find these surfaces cold, or a little bit too risky, and that they can be slippery when wet, much like a ceramic tile, and require a non-slip surface. 
The best bathroom flooring must be waterproof or water resistant
The best bathroom floor will resemble the best floor for dogs as well as a bathroom floor — both floors will be getting soaking in water. When looking for a new bathroom floor you should take into account how much water could go onto the floor. You need to make sure your new flooring is water resistant, such as the Luvanto flooring for bathrooms ranges.
Summary
As the bathroom is generally small in size compared to other rooms in the home, you have a lot of room to experiment as you won't necessarily need a lot of materials to complete your bathroom flooring project. A small bathroom presents a fantastic opportunity to make the most of your flooring options and budget.
Finding the best bathroom flooring need not be difficult nor restrictive. As you can see, you may now have many more options than you had previously considered, so take your time, experiment with options, and enjoy your bathroom refurb project!