Because vinyl flooring is mostly made of PVC, it is waterproof and ideal for bathrooms and kitchens. However, the quality of installation can impact resistance to water. LVT, for example, is available in tiles or planks that sit side by side, resulting in many seams. While the tiles and planks are indeed waterproof, if they have been installed incorrectly, water or moisture may enter through the seams. 
What exactly is vinyl flooring?
Vinyl flooring is made up of numerous sheets of various materials that are sandwiched together to make a practical, highly durable, and cost-effective floor covering. 
Luxury Vinyl Tiles are a form of vinyl flooring that is intended to look like traditional floor coverings such as ceramic tile and hardwood. Vinyl floors appear and feel practically identical to the things they're imitating, thanks to technology breakthroughs and improved design capabilities. 
LVT is available in two options, flexible glue down or stiffer free-floating click together planks and tiles. LVT's modular format creates a floor covering that is relatively simple to fit, a significant benefit when remodelling a room or home. 
Indeed, with LVT, there is no need to disrupt the daily routine for an extended period of time by blocking off one or more rooms as many LVT renovations can be completed while the furniture remains in the room.
How durable is Vinyl Flooring?
Vinyl flooring is usually regarded as being a highly strong and durable material. However, there are several crucial aspects that impact how long your floor will survive. How it was manufactured, the quality of the material used, and how well it was fitted, for example, will all have an impact on both the life expectancy and durability of your vinyl flooring.
All vinyl floors have a specific surface treatment that gives extraordinary protection and makes them even more durable and resistant to scratches and stains.
They also have a translucent wear layer, which adds durability. Stiff LVT also features a more rigid core design, which provides additional resistance and great dimensional stability. 
The product will maintain its shape and size in the face of moisture or temperature changes (within tested tolerances). Rigid LVT's appearance will not be affected by water, whether hot or cold. In fact, its top layer is so tough that it protects it from all kinds of damage. It's also an excellent flooring choice for high-traffic areas and anyone searching for a high-quality but low-maintenance floor.
How long do vinyl floors last?
Vinyl floors have a lifespan of anywhere between 5 and 25 years, depending on their quality and how they are laid and maintained. Regular cleaning and maintenance of your vinyl flooring will prolong its shelf life and it could last in excess of 25 years, depending on the quality of the vinyl flooring that you opt for. Luvanto Endure Pro, for example, has a lifetime domestic warranty.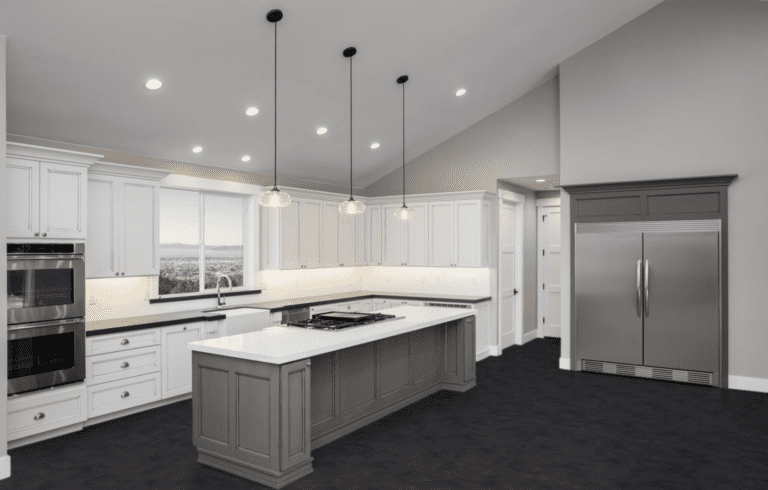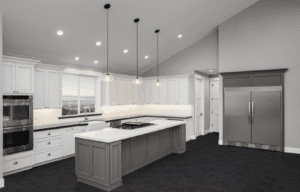 What are the advantages and disadvantages of vinyl flooring?
The advantages and disadvantages of vinyl flooring vary greatly depending on the type and quality of product you select. Vinyl flooring has numerous well-known benefits.
It's soft and silent underfoot, resistant to damage and dampness, simple to install and maintain, inexpensive, and available in a wide range of colours and designs. As a result, vinyl flooring is a popular choice among a wide range of consumers, particularly the design-conscious and budget-conscious DIY consumer.
Advantages of vinyl flooring
There are many benefits of vinyl flooring, which is why this type of flooring is currently soaring in popularity. Let's take a look at some of the benefits of LVT flooring.
Highly durable

– LVT flooring is extremely durable. It's unlikely to chip or dent if you drop anything on it and it is highly resistant to scratching. This means that your LVT flooring should continue to look great for many years to come.

Easy to clean – This type of flooring is very easy to clean. Simply sweep up any loose dirt and then clean your floor with soap and water.  
Customisable appearance – There are lots of different options available when it comes to choosing your LVT flooring. Whether you prefer wood, stone or tile effect, or intricate patterns, there is something for everyone.
Warm underfoot

– LVT flooring is warm underfoot. This means that you won't dread getting out of bed in the morning, and it will help your home to feel warmer.

Long lifespan

– One of the best things about LVT flooring is its long lifespan. For example, Luvanto LVT flooring comes with a minimum 25-year domestic guarantee, meaning that you won't have to worry about replacement for many years to come.

Water resistant – LVT flooring is water resistant, meaning that it won't be damaged by spillages. In fact, there are many types of LVT flooring that are suitable for use in bathrooms.
Disadvantages of vinyl flooring
Whilst there are many advantages of vinyl flooring, there are also some disadvantages that you should be aware of before making your decision. Here are some of the downsides of LVT flooring.
Cost

– LVT flooring is generally more expensive than some other flooring types, as a result of its high quality. This means that you may need a higher budget if you want to fit LVT flooring in your home compared to some lower quality laminate flooring.

Fitting – You may find that LVT flooring is more difficult to fit than laminate or sheet vinyl, especially if you choose a more complex pattern such as parquet. It's worth considering using a specialist fitter if you choose LVT flooring for your home.