Parquet flooring is a form of flooring that is traditionally constructed by arranging hardwood pieces in a pattern to create a range of attractive geometric shapes.
History
In the late 1600s, the elaborate hardwood patterns of parquet flooring became a popular replacement for marble floors since it required less upkeep.
However, because the original style of parquet flooring was exceedingly expensive and required a great deal of talent to construct, installing parquet flooring became an extravagant display of riches. Parquet floors experienced a revival in the 1980s and 1990s. Modern parquet flooring's artistic beauty and natural warmth have made it a popular feature in houses across the UK.
Parquet flooring, also known as mosaic flooring and sometimes herringbone flooring, is composed of several colours and kinds of hardwoods cut into tiles of various shapes: squares, diamonds, triangles, and rhombuses. These are then laid to make chevron, basket weave, or herringbone flooring patterns.
However, because of the range of styles available, you can achieve whatever impression you desire. Because of its versatility, as well as the warmth and beauty of real wood, parquet flooring is an exquisite and timeless addition to halls, reception areas, kitchens, living rooms, and bedrooms in both conventional and modern homes.
Why choose parquet flooring?
There are many different alternatives to consider when installing hardwood flooring in your home. You've certainly explored the conventional plank design of hardwood flooring, but have you considered something different?
Parquet is still one of the most popular types of flooring, particularly in period homes with traditional/classic characteristics, high ceilings, and vast, open areas. A recent trend is to use larger sized LVT planks, which function very well in ultramodern open planned living spaces.
The design gives a one-of-a-kind and classic touch to any environment, making the floor the centre point. A parquet floor may be the answer if you want something unique.
What is Parquet Flooring Made Of?
One of the most appealing aspects of parquet flooring is its versatility. Solid wood was previously the only option for parquet floors. Many more styles of modern parquet flooring are now accessible, thanks to new technology and mechanised manufacture.
Solid Wood Parquet Flooring
Because it is created from wood blocks, this style of parquet flooring is very natural in terms of appearance as each piece is unique.
The following are some of the most common varieties of solid wood flooring:
Oak Parquet Flooring
– Oak is an excellent species for all types of design schemes since it ages gracefully and darkens in colour.
Walnut Parquet Flooring
– The dark and vivid tones of this high-end hardwood are difficult to top for a premium appeal in any residence.
Reclaimed Parquet Flooring
– Reclaimed parquet flooring or aged parquet flooring combines the benefits of modern flooring with the character and charm of an old or reclaimed floor.
Laminate Parquet Flooring
This adaptable and long-lasting modern flooring replicates the beauty and richness of a true wood-panelled floor at a fraction of the price. You may choose from a variety of styles, textures, and tones, and it's quite simple to lay.
LVT Parquet Flooring
The experience of parquet luxury vinyl tiles is similar to that of solid wood as it is hard wearing while giving practical features such as water resistance and ease of cleaning. Because of its longevity and usefulness while preserving a lovely, textured appearance, it is ideal for kitchen, dining room, bathroom and hallway floors.
Parquet Chevron
Chevron parquet flooring has a zig-zag pattern akin to herringbone but more uniform. That consistency creates a basic and clean appearance, which can assist to make tiny spaces feel larger.
Sheet Vinyl Parquet Flooring
Vinyl Parquet Flooring It is water-resistant, low-maintenance, and easy to clean, and comes in a range of thicknesses and tones. As a result, it is ideal for kitchens, hallways, and reception spaces.
Colours of Parquet Flooring
Colour is an important factor in any design concept, and parquet floors are no exception. The good thing is that with so many different wood species and parquet flooring styles to pick from, you'll have lots of colour options. This includes natural colours that vary depending on the wood type, as well as greys, whites, and rich, deeper tones.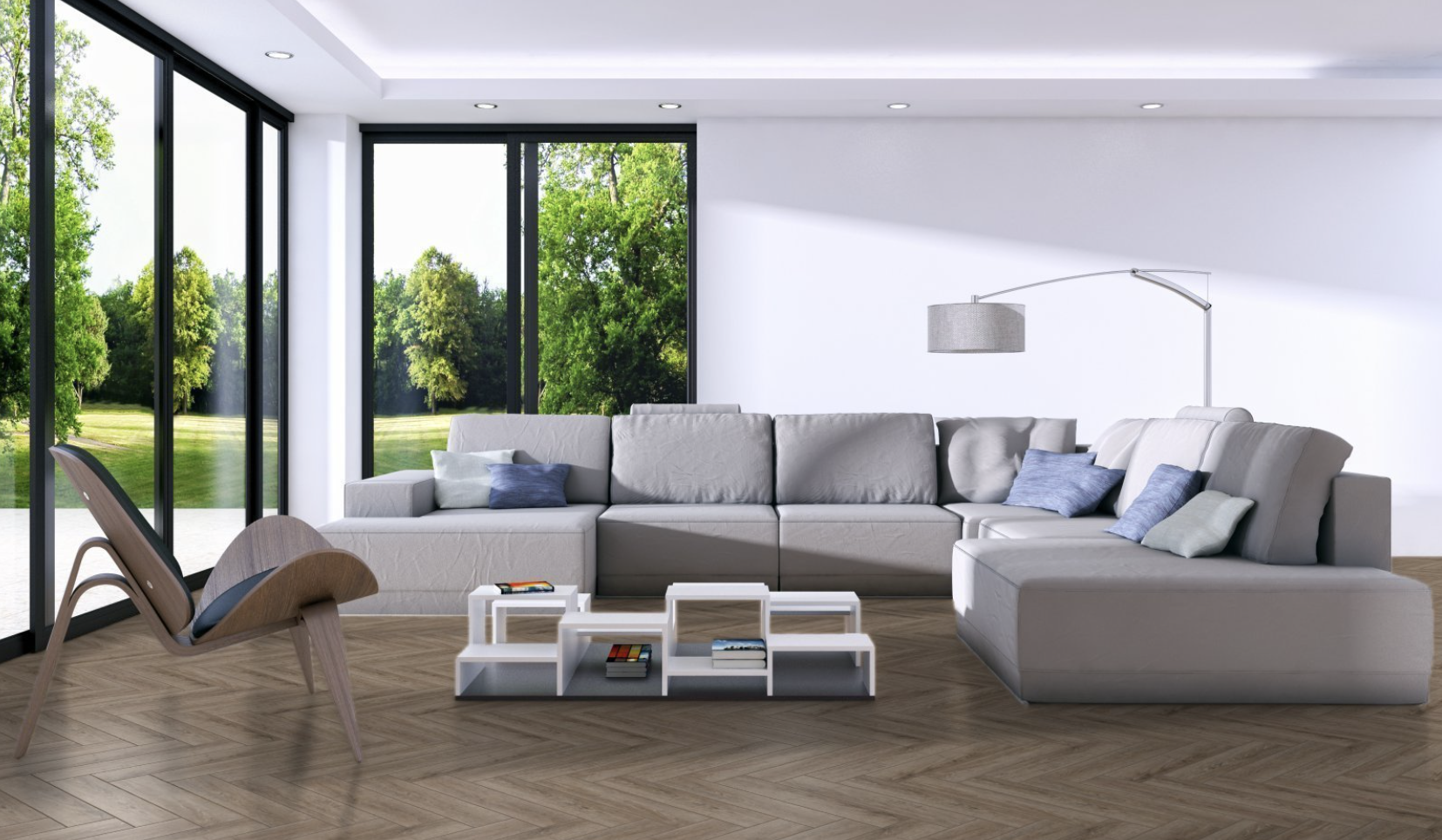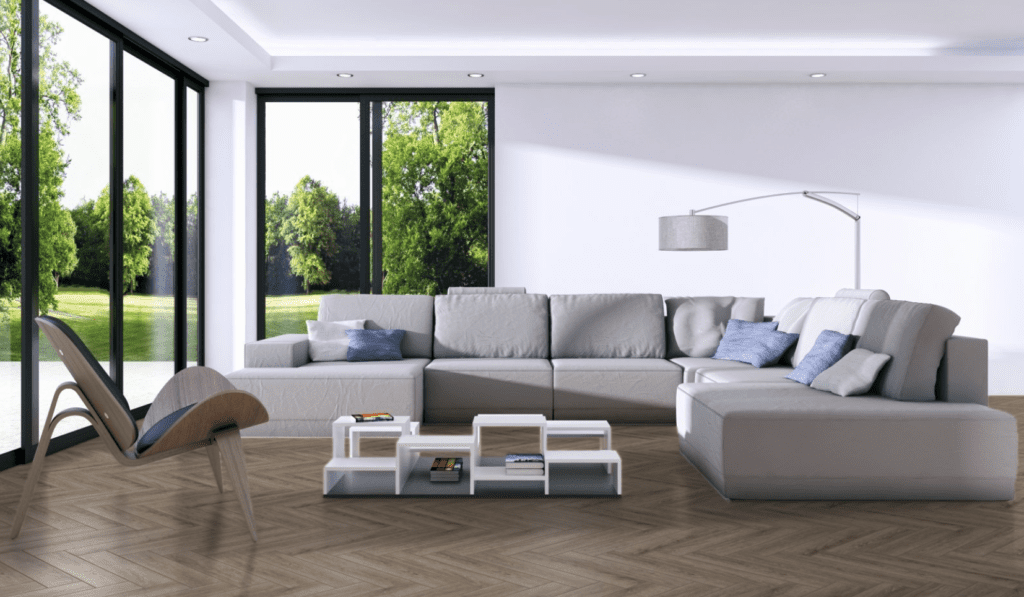 Advantages and Disadvantages of Parquet Flooring
Parquet flooring is a classic or traditional flooring design that homeowners choose when they want a classic or traditional style.
Before installing parquet floors in your home, it is best to understand what this product is and weigh the benefits and drawbacks of this flooring solution.
Advantages
Beauty and appeal
Because parquet is composed of wood or wood effect pieces, it adds a sense of warmth to the space where it is installed. Because of the geometric and angular pattern alternatives, it has been used in some of history's most magnificent mansions. 
Parquet may offer your home a classic or modern appeal because the patterns and materials can be customised by choosing from a variety of patterns, materials and colours. Wood flooring has long been associated with comfort and luxury, so it's no wonder that parquet flooring is being used in houses and hotels all over the world, with many opting for the ease of fitting and maintenance benefits of luxury vinyl tile.
Unique
Parquet flooring is an excellent option to explore if you want something genuinely unique. Materials can be blended and you can change the patterns, materials, grains, and colours of parquet flooring to make no two rooms look alike.
Non-allergic
Unlike carpets and rugs, which can harbour dirt, dust, debris, and allergens, parquet flooring does not allow these unwanted guests to settle. This is a fantastic option for families with young children who are at risk of developing allergies, as well as for allergy sufferers.
Disadvantages of Wooden Parquet
Requires Maintenance
No matter how well you maintain your flooring, it's crucial to reseal, sand, and shine the wood tiles. This prolongs the lifespan of the flooring and ensures that it stays lovely and new-looking.
Moisture Damage
Parquet flooring is prone to moisture and humidity because it is made of wood. Having said that, it's crucial to control the humidity in your house and maintain the dryness of your parquet flooring.
Susceptible to Scratches
Parquet is subject to scratches from small, sharp things striking the floor, just like other types of wood are. When that occurs, regaining the previous appearance can be difficult. For this reason, it's recommended to use door mats or rugs at entry points and to avoid wearing high heels on parquet floors.
Depending on the style you want for your home, parquet flooring can be an excellent option.
LVT -vs- Wood
You have probably asked yourself "Should I choose hardwood flooring or LVT?" – it's a common question and hopefully some of the information in this article will help you to make up your mind.
They are quite comparable in terms of durability, design options, and elegance.
These two flooring options are also very dissimilar from one another; one is made from a natural resource, while the other is assembled from man-made materials. It could be challenging to choose between hardwood and LVT with so many factors to take into account.
The good news is that LVT and hardwood floors are both incredibly resilient. 
Hardwood flooring is incredibly sturdy and durable since wood is a naturally hard material. Its lifespan is increased with a factory-applied coating that protects the hardwood and keeps it looking brand new. It's important to keep in mind that engineered hardwood flooring shouldn't receive additional coats or waxes because doing so could compromise the protective layer.
Although hardwood flooring can endure a range of business circumstances, it is better to stay away from areas where it might be exposed to a lot of moisture. Over time, water on the flooring in bathrooms, laundry rooms, and even kitchens can erode the hardwood.
LVT is a synthetic material, making it resistant to moisture and the environment. In addition to being resistant to moisture and temperature changes, the flooring gains a memory for straightness as a result.
LVT's many layers, which were formed under intense heat and pressure, make it durable enough to resist heavy use.
The "hard wear" layer of LVT assures that it will survive for a very long time and may be used in nearly any environment. LVT is highly sturdy and robust.
Conclusion
The universal elegance and graceful charm of parquet flooring can help you create a stunning first impression in halls, bedrooms, living areas, and kitchens, whether your home is contemporary or classic, minimalist or rustic.
The pattern generated by your parquet floor can change the perspective and help to create the appearance of a longer or wider space in a small or narrow room. However, you should exercise caution when selecting parquet flooring blocks. A narrow hallway, for example, can only hold a specific amount of blocks, so larger designs may not be the greatest option.
In terms of comfort, parquet flooring is softer and warmer underfoot than other materials like ceramic or stone. It is also long-lasting, and as a result, parquet flooring is ideal for spaces with high traffic and moving furniture. When you consider how low-maintenance modern parquet flooring is, it's easy to see why it has become such a popular addition to so many homes.