In recent years, the camper culture and self-build movement have gained significant popularity among adventure seekers and individuals seeking freedom on the open road. These innovative individuals are embracing the idea of designing and constructing their own personalised living spaces on wheels. From vintage VW campervans to modern converted vans, the possibilities are endless. One crucial aspect to consider when embarking on a camper or self-build project is selecting the correct flooring to create a modern-day feel. In this blog post, we will explore why this choice is important and how Luvanto Luxury Vinyl Tiles (LVT) can be the perfect flooring solution for your camper.
The Significance of Choosing the Right Flooring:
Flooring plays a pivotal role in the overall aesthetics, functionality, and comfort of any living space, including campers and self-builds. The right flooring choice can transform a simple van into a cozy and inviting home-on-wheels. Here are a few reasons why selecting the correct flooring is crucial:
Style and Atmosphere: The flooring sets the foundation for the overall style and atmosphere of your camper. It can help create a modern, sleek, or rustic feel, depending on your design preferences. The right flooring choice can elevate the interior design and make it feel like a home away from home.
Durability and Longevity: Campers are exposed to various weather conditions, constant foot traffic, and potential spills. Therefore, it is essential to choose flooring that can withstand these challenges. Durable flooring ensures longevity, saving you time and money in the long run.
Easy Maintenance: Cleaning and maintaining the flooring in a camper should be hassle-free. Opting for a low-maintenance flooring solution makes life on the road more enjoyable. You want to spend your time exploring, not constantly cleaning.
Why should you choose Luvanto LVT for your campervan or motorhome?
When it comes to selecting the perfect flooring for your camper or self-build, Luvanto Design Luxury Vinyl Tiles (LVT) stand out as an exceptional choice. Here are some reasons why:
Realistic Appearance: Luvanto LVT offers a wide range of designs, including wood, stone, and abstract patterns. The high-definition printing and textured surface create a realistic look that mimics natural materials. This allows you to achieve the modern-day feel you desire.
Durability and Resilience: Luvanto LVT is designed to withstand the challenges of camper life. It is highly durable, scratch-resistant, and can handle high foot traffic and heavy loads. Its resilience ensures that your flooring will look great for years to come.
Waterproof and Easy to Clean: Accidental spills are a part of life on the road. Luvanto LVT is 100% waterproof when used with an epoxy, waterproof adhesive, making it perfect for campers. Its smooth, non-porous surface repels water and stains, making cleaning a breeze. Just a quick wipe and your flooring will look as good as new.
Comfort and Noise Reduction: Luvanto LVT provides a comfortable underfoot feel, making your camper a cozy place to relax after a long day of exploring. Its multi-layered construction also helps to reduce noise, enhancing the overall comfort and tranquility of your living space.
Please Note: LVT should be laid onto Class 3 Exterior Grade Ply as a minimum standard and that meets the regulated requirements of a campervan or motorhome conversion.
Conclusion:
Selecting the correct flooring for your camper or self-build is essential in creating a modern-day feel and ensuring a comfortable and durable living space. Luvanto Luxury Vinyl Tiles (LVT) offer an ideal flooring solution that combines style, durability, and ease of maintenance. With its realistic appearance, resilience, waterproof properties, and comfort, Luvanto LVT can transform your camper into a home-on-wheels that reflects your unique style.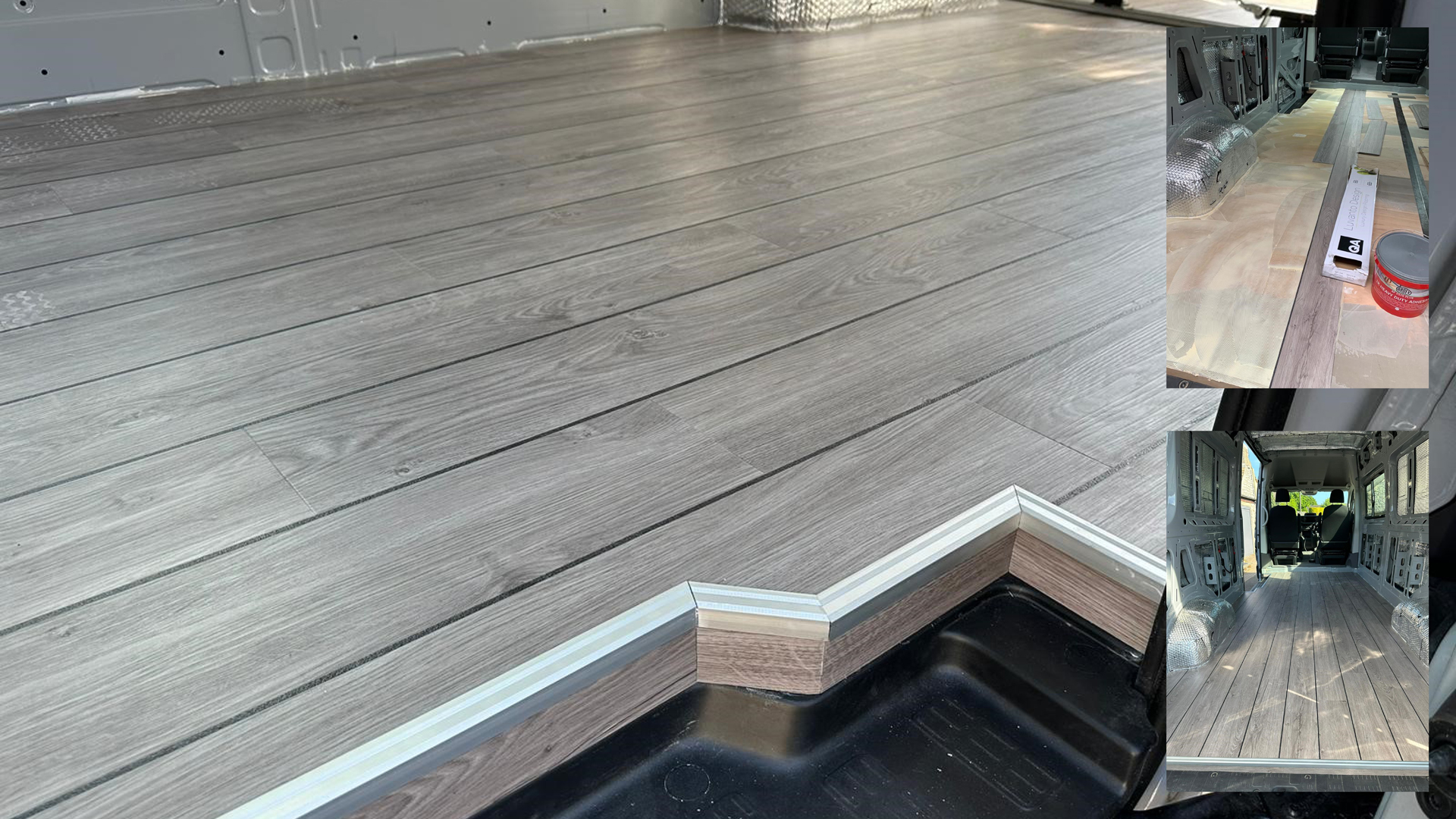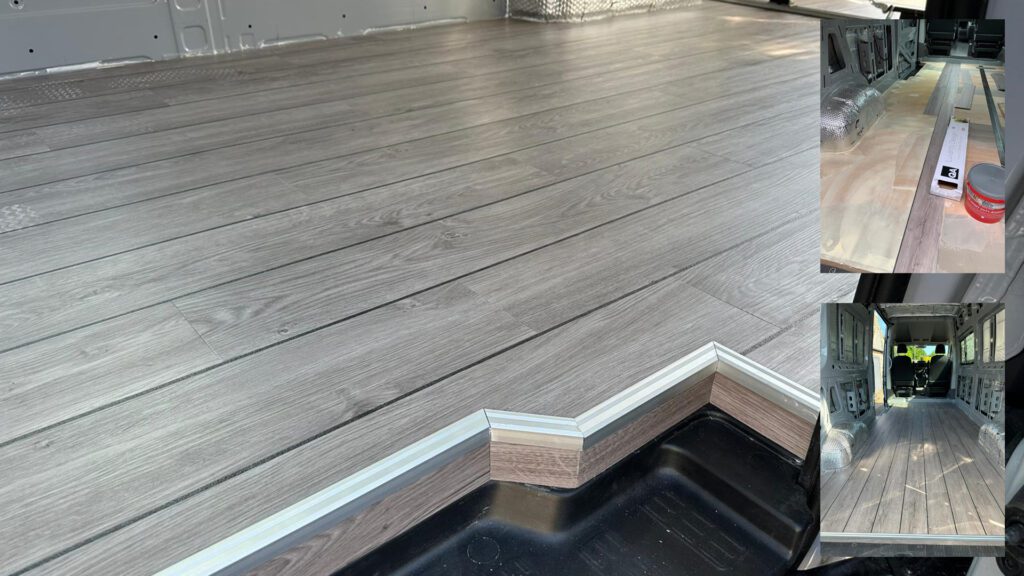 Interior Photos: Courtesy of Jo Lawson, Mr Carpet