When it comes to the best conservatory flooring, luxury vinyl tiles (often abbreviated to LVT) are a clear winner. Not only are LVT warm underfoot, easy to clean and non-slip, but they look the part too, so you'll be left with a stylish and versatile living space. 
In this article, we'll discuss the different types of flooring that you can use, as well as explore the benefits of LVT and the pros and cons of vinyl flooring for conservatory design. After all, you need to know the facts before you can make an informed decision for your home.  
Best flooring for a Conservatory 
There are many different types of conservatory flooring to choose from, and everyone seems to have a different opinion when it comes to which type is best – from carpets to conservatory floor tiles. To help you to make your decision, we've put together a guide to the different options that are available, including the pros and cons of each. 
LAMINATE
Laminate flooring can seem like a tempting option for your conservatory flooring, thanks to its low cost and easy-to-clean design. It's also quick and easy to fit and tends to be resistant to fading, so you shouldn't notice it changing colour over time. 
However, one significant drawback of laminate flooring is that it expands and shrinks depending on temperature and moisture. This means that laminate flooring is not the best flooring for conservatory designs when it's particularly sunny or humid, as you may find that your flooring begins to lift or becomes uneven. 
SOLID WOOD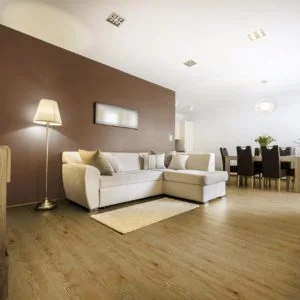 Solid wood flooring has an elegant and timeless appearance and is a great way to add value to your property. It's a far cry from our special vinyl flooring for conservatory designs. 
However, it's important to note that solid wood is not suitable for use in conservatory flooring. This is because the variance in temperature causes the wood to warp, crack and lift over time. You might also find that your solid wood floor becomes bleached from exposure to sunlight – a particular problem in a conservatory.
TILE
Historically, tiles were a popular choice for conservatory flooring. This is because conservatory floor tiles are easy to clean and durable, standing up to a wide range of temperatures. It is also waterproof, so isn't affected by spillages, cleaning or humidity. 
However, tiled flooring is renowned for being cold underfoot. This can make your conservatory feel even colder during the winter months, limiting your use of the space unless you invest in underfloor heating and the associated energy cost. This conservatory flooring can also be slippery, increasing the chance of accidents occurring. 
CARPET
Carpet is not thought of as the best flooring for conservatory design, but it is possible to put it in your conservatory. This can be an effective way to make your conservatory floor feel warmer, especially during the winter months. 
It's important to remember that carpet is not easy to clean like conservatory floor tiles, so you'll need to spend more time keeping your conservatory floor clean if you opt for carpet, especially if you directly access the garden through your conservatory. 
VINYL
Vinyl flooring for conservatory design is a popular choice. This is because it is hard-wearing and easy to clean. Not only that, but it's also resistant to temperature and moisture, so you won't notice it shrinking or warping depending on the weather conditions. 
LUXURY VINYL TILE (LVT)
It can be hard to find the right balance when you're choosing conservatory flooring. This is where LVT flooring comes in. 
With LVT, you can combine the outstanding durability of tiles with a warmer underfoot. Not only that, but it's also easy to clean and there is a vast range of designs to choose from. It has some of the most coveted aspects when looking at the best flooring for conservatory design. You could opt for LVT which has the appearance of solid wood or tiles, or design a unique pattern to transform your living space. Good quality LVT will have a high stone content making it resistant to expansion and shrinkage in hot and cold weather. We recommend using a glue down LVT such as Luvanto Design or Design Herringbone.
Looking for wood effect flooring? Discover our wood effect LVT here
THINGS TO CONSIDER WHEN CHOOSING A FLOOR FOR YOUR CONSERVATORY 
Choosing the right floor for your conservatory can feel daunting. There are so many different options to choose from, and you don't want to make the wrong choice. Here are just a few of the things you'll need to consider when deciding on the right flooring type for your conservatory. 
Temperature: It's important to consider the temperature of your conservatory. Is it a consistent temperature year-round or does it fluctuate depending on the weather? If your conservatory is hot in summer, it's best to avoid flooring types such as wood and laminate which may expand and warp during hot weather. 
Usage: You'll also need to think about how the space is used. If you have children running all over your conservatory flooring, you'll need a flooring type that is non-slip, as well as soft underfoot. Alternatively, if your conservatory is used as a dining room, you'll need a floor that is easy to clean to avoid any stains. 
Dirt: If your conservatory has an external door, you'll need to think about whether dirt will be brought into the house. If so, it's a good idea to opt for a floor that is easy to clean such as LVT or laminate. 
Brightness: You must consider the level of sunlight that enters your conservatory. If your conservatory is a bit of a sun trap, you'll need to opt for a type of flooring that is resistant to fading when exposed to sunlight, such as LVT. This will help to keep your flooring looking great for years to come, no matter how many sunny days we enjoy.
Budget: Of course, it's always important to keep your budget in mind when you're looking for flooring for your conservatory. You need to look for the best quality flooring that will last for many years, without breaking the budget. 
Aesthetics: Finally, you'll need to consider aesthetics. We all have different tastes, so it's important to look for a style of flooring that looks the part in your home and shows off your unique personality. 
WHY CHOOSE LVT FOR CONSERVATORIES? 
Vinyl flooring for conservatory design is very popular, thanks to its durable and easy-to-clean nature, along with its stylish appearance. But why should you choose LVT for your conservatory? 
Here are five reasons to choose LVT for your conservatory flooring. 
1 – DURABLE
Regardless of whether it comes as boards or floor tiles, LVT is extremely durable, meaning that it won't easily scratch or chip with normal use. This means that your conservatory flooring will stay looking like new for many years to come, making it one of the best flooring conservatory designs on the market. 
2 –
EASY TO CLEAN
Cleaning is a necessary part of home ownership, but that doesn't mean we have to enjoy it. A vinyl flooring for conservatory design means that you can quickly sweep up dirt and mop up spills without fuss. This is key in a busy household, and luckily this is exactly what LVT offers. Unlike solid wood, LVT doesn't need any expensive polish, lacquer or treatment to keep it looking great – simply sweep up the dirt and then wipe with warm water and a mild detergent and then go back to enjoying spending time with your family.  
3 –
WARM UNDERFOOT
Tiles and wood can often feel cold underfoot, as well as hard. LVT brings a touch of luxury into your conservatory, with a softer, more cushioned feel underfoot, as well as being warmer to the touch. LVT conservatory floor tiles are also quieter to walk on. It's also highly slip-resistant, reducing the risk of accidents. 
4 –
ENDLESS DESIGNS 
Every home is different, with individual tastes and styles. This should be represented in your flooring – after all, it would be boring if we were all the same. This is exactly what LVT gives you, with the choice of wood effect, tile effect and just about everything in between. You can also choose to mix and match different colours and styles to create your patterns and designs, making your conservatory flooring just as unique as you are. 
5 – PEACE OF MIND
When you choose LVT flooring for your conservatory, you also benefit from the peace of mind of knowing that your flooring has been designed to last. To give you complete confidence in the best flooring for conservatory design, all Luvanto LVT flooring comes with a 25-year domestic warranty. That means that your Luvanto LVT flooring is guaranteed to perform and represents excellent whole-life value for money. 
Want the appearance of tiles without the cold feet? Discover our tile effect LVT here
WHY IS MY CONSERVATORY FLOOR SO COLD?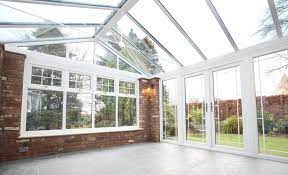 If your conservatory has a concrete base, you might find that the floor of your conservatory feels cold, especially during the winter months. This will be particularly noticeable if you have conservatory floor tiles or wooden flooring. 
Vinyl flooring for conservatory designs circumvents this problem. This type of flooring feels both softer and warmer underfoot than tile, laminate or solid wood. 
This can help to make your conservatory feel warmer, even during the cold winter months. 
IS LVT BETTER THAN LAMINATE? 
One question that we are regularly asked is whether LVT is better than laminate. The answer to this will depend on where the conservatory flooring is being laid and how it will be used, as well as your tastes. 
Laminate flooring is typically made from melamine resin, along with fibreboard. It then has a top layer that is designed to imitate real wood. However, despite its appearance, laminate flooring is not made from wood. These have been considered one of the best types of flooring for conservatory designs, a popular choice amongst homeowners for many years, especially in areas where dirt and spills are common, such as kitchens, dining rooms and hallways, thanks to their easy-to-clean properties. 
However, laminate flooring does have its drawbacks. For example, hot temperatures may cause laminate flooring to warp or become distorted, and it can easily become chipped if items are dropped onto the flooring. It can also feel cold underfoot. 
Whilst LVT can look just as realistic as laminate flooring (or even more so in our opinion!), it is softer and warmer underfoot. Luvanto has excellent non-slip properties. It is also water resistant, meaning that it is suitable for use in kitchens and bathrooms, and it won't distort in hot weather. This means that LVT flooring typically lasts for longer than a laminate floor. Some brands such as Luvanto even come with a 25-year warranty, so you have the peace of mind that your flooring will last for many years to come. 
IN SUMMARY 
Conservatories are renowned for being too hot in the summer and too cold in the winter. Unfortunately, this brings with it some challenges when it comes to finding the perfect conservatory flooring. Whilst tiles can often feel too cold underfoot, laminate and solid wood flooring have a tendency to warp in hot or humid conditions. 
In our opinion, the best flooring for use in a conservatory is Luxury Vinyl Tiles, or LVT, thanks to its high level of durability and stability, combined with its stylish appearance. This type of flooring is warmer underfoot, enabling you to feel comfortable in your conservatory. Not only that, but it also comes in a wide range of designs, so you're sure to find something that suits your taste, personality and budget. It's easy to see why so many people choose LVT as the best flooring for the conservatory.
If you're considering installing Luxury Vinyl Tile flooring in your conservatory, take a look at Luvanto's range of high-quality LVT flooring. Not only is it stylish and timeless, but it's also guaranteed for 25 years, meaning that you secure peace of mind for many years to come.